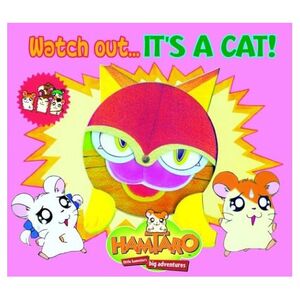 Watch Out... It's a Cat! is a Hamtaro board book.
The description from Amazon.com:
The cute and cuddly pet of fifth-grader Laura, Hamtaro is a golden hamster with an insatiable curiosity. Together with the Ham-Ham Gang, a bunch of hamsters as clever and unique as Hamtaro himself, Hamtaro lives each day as a whole new adventure ... complete with fun, excitement, and friendship. In this imaginative board book with a hole cut through each page, the picture and story change with each new page. On the first page, Hamtaro and his Ham-Ham friends think they see a cat about to pounce on them, but as the story unfolds and the pages are turned one by one, the scary "cat" turns out to be anything but.