Hamha!
I have now been editing this wiki for 100 days straight! 😄
I would like to say a huge thank you to everyone that has been involved with us, making the Hamtaro Wiki a somewhat active place again! I know we have a long way to go, but we also have the time!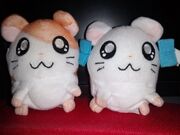 I have also found myself a
Hamtaro
and
Bijou
plush over the summer that will now keep me occupied!
I have also got a lot of pressure taken off of me, passing my GCSE exams with flying colours! Sixth Form (99% equivalent to College) is now next, I hope to speak to many of you all soon!
- Michael
Ad blocker interference detected!
Wikia is a free-to-use site that makes money from advertising. We have a modified experience for viewers using ad blockers

Wikia is not accessible if you've made further modifications. Remove the custom ad blocker rule(s) and the page will load as expected.