Story of Seasons: Trio of Towns

Developer:
Marvelous AQL
Publisher:
Nintendo (JP)
Marvelous USA/XSEED Games (NA)
Platform:
Nintendo 3DS

Release Dates:

JP: June 23, 2016
NA: February 28, 2017
EU: N/A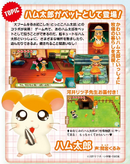 Story of Seasons: Trio of Towns ( つののなだち, Bokujō Monogatari: Mittsu no Sato no Taisetsu na Tomodachi, lit. Ranch Story: Cherished Friends of Three Towns) is an game for the Nintendo 3DS.
It was announced that the game developers, Marvelous AQL, signed an agreement to have Hamtaro as an obtainable pet within the game with Kurumi Mamiya, his voice actor, returning to voice some lines within the game.
Very little is known about how the character will interact with the world, but he will be able to follow the player around, into the towns within the game as a buyable pet. It seems that he can help you harvest sunflowers.
The game will be released in North America in 2017, as expected after the success of the previous games. Over Twitter, Chiara Zanni expressed her interest in returning to voice Hamtaro for the game.
It was later announced that Hamtaro would only exist in the Japanese version, as seen here.
You can view some gameplay of the Japanese version with Hamtaro following you as a pet here.
Ad blocker interference detected!
Wikia is a free-to-use site that makes money from advertising. We have a modified experience for viewers using ad blockers

Wikia is not accessible if you've made further modifications. Remove the custom ad blocker rule(s) and the page will load as expected.