Rosy
(ビューティー,
Byūtī
/Beauty) is one of the Rainbow Girls, alongside
Daisy
and
Ivy
, who serve under
Prince Bo.
They do absolutely anything and everything for him. She appears in the
Hamtaro Ham-Ham Games
GBA game on Team Rainbow.
Her Japanese name comes from the English word "Beauty" while her English name, Rosy, comes from the rose flower because her suit and hair color is red. 
Personality
She is a lazy hamster with a warm heart. She is the most moderate and relaxed out of the Rainbow Girls, but this doesn't always apply when Prince Bo is around. She admired how the Ham-Hams saved the pirates' ship that was going to fall in the sea while the other girls continued to selfishly slander the Ham-Hams. She is always in her best act when Bo is around, but this doesn't stop her from fighting with the other girls.
Gallery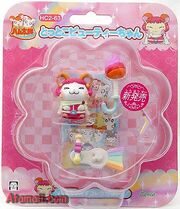 See also:
Rosy/Gallery
Ad blocker interference detected!
Wikia is a free-to-use site that makes money from advertising. We have a modified experience for viewers using ad blockers

Wikia is not accessible if you've made further modifications. Remove the custom ad blocker rule(s) and the page will load as expected.