Ritsuko Kawai
(河井 リツ子,
Kawai Ritsuko)
is the creator of Hamtaro.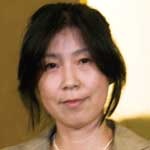 Born in Toyonaka, Japan on March 3 1964, she drew shōjo manga (Manga aimed at girls) in Ciao magazine. She first created Hamtaro in 1997, a manga about the daily life of a hamster owned by a girl named Yukari. These included tips on how to raise and care for a hamster in real life.
Due to popular demand, an anime was created and based on her fourth Manga from her 'The Adventures of Hamtaro' series, about hamsters in a pet shop that play games when it's closed. The first episode, Hamtaro, aired on 7th July 2000.
Just before production of the show was started, she was asked to have her say in the show, which was that the Ham-Hams had to always promote the same message, non-violence, teamwork, cooperation and sharing.
Ad blocker interference detected!
Wikia is a free-to-use site that makes money from advertising. We have a modified experience for viewers using ad blockers

Wikia is not accessible if you've made further modifications. Remove the custom ad blocker rule(s) and the page will load as expected.