Panda

I wanted to be a carpenter myself!

First Appearance:
Episode 3: Calling all Ham-Hams!

Profile

Owner:
Mimi
Best Friend(s):
 ???
Loves:
Bijou(?)
Gender:
Male
Species:
Hamster
Date of Birth:
April 8th
Eye Color:
Grey
Height:
8.8 cm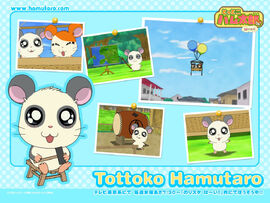 Panda (パンダくん, Panda-kun) is owned by Mimi. A Ham-Ham whose fur matches his name, he is the sweet and gentle-natured builder/carpenter of the Ham-Hams who built and repaired many things throughout the duration of the anime as well as the in the games. He also designed the Ham-Ham Fun Park. Mimi's parents own and operate a wood working shop in their house, meaning Panda always has access to construction supplies.
Gallery
See also:Panda/Gallery