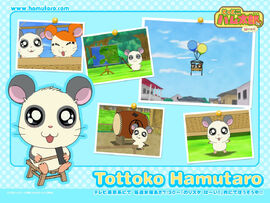 Panda (パンダくん, Panda-kun) is owned by Mimi. A Ham-Ham whose fur matches his name, he is the sweet and gentle-natured carpenter of the Ham-Hams who built and repaired many things throughout the duration of the anime as well as the in the games.
Character
Panda serves as a carpenter for the Ham-Hams and not much else. He builds most bulky structures throughout the series. His most valued project is the Ham-Ham Fun Park (in Panda's Ham-Ham Fun Park!). Mimi's parents own and operate a woodwork shop in their house, meaning Panda always has access to construction supplies.
Major Builds
Ham-Ham Fun Park (#19)
The Ham-Ham Express (#97)
Sweet Paradise Fun Park (not confirmed to be Panda's work; also built between episodes, first appearance in #216)
Please finish this list!
Notable Episodes
Gallery
See also:Panda/Gallery