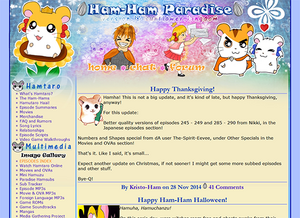 Ham-Ham Paradise is a Hamtaro fansite that specializes in subbing Japanese episodes into English. It can be found at hhp.icy-mint.net (not available).
The website also has all the Hamtaro Episodes available for download under their Episodes Index, or Japanese Subtitled under Paradise Hamsubs.
The best person to contact from this wiki about the Ham-Ham Paradise would be Kristopher MrLeap Walker, being one of the site admins that are still active on this wiki.