A Christmas song sung by the Ham-Hams.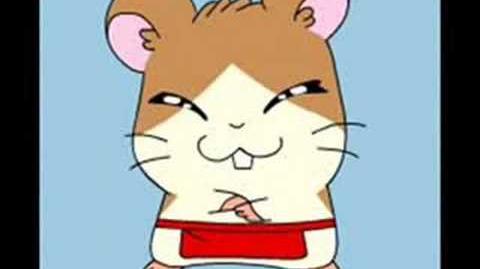 Lyrics
Hamtaro: There's a magic in the air
Boss: That only comes at Christmas
Bijou: You can see it everywhere
Oxnard: Uh, where? I don't see it.
Cappy: There's a feeling in the air
Maxwell: That Santa Claus is coming
Sandy: You can feel it everywhere
Boss: Ho ho ho ho ho!
Panda: Children laughing, music playing
Stan: People everywhere
Oxnard: Saying Merry Christmas, how are you?
Hamtaro: Merry Christmas!
Jingle: How are you?
Dexter: Happy family, smiling faces
Howdy: Everywhere you go
Pashmina: They all join in to sing this Christmas song
All: A very merry Christmas to you! (Merry Christmas!)
A very merry Christmas to you!
A very merry Christmas to you! (Laura: Look outside!)
Yes, a very merry Christmas to you!
Download
You can download the song here.
NOTE: I do not own ANY part of Hamtaro. Full credit to Ritsuko Kawai, Viz-Media and any of Hamtaro's Distributors. We are just here to keep the Hamtaro Fanbase alive for people to enjoy!
Ad blocker interference detected!
Wikia is a free-to-use site that makes money from advertising. We have a modified experience for viewers using ad blockers

Wikia is not accessible if you've made further modifications. Remove the custom ad blocker rule(s) and the page will load as expected.