Big Penelope

Episode Number:
220

First Airdates

Japan
October 1, 2004
North America
N/A
 
Big Penelope (とっとこビッグな! ちび丸ちゃん, Tottoko Biggu Na! Chibimaru-chan) is the 220th episode of Hamtaro.
It was never dubbed in English.
One of Lazuli's experiments makes Penelope huge, Boss small, and Oxnard even tinier! Can they return to normal? 
Plot Summary
Characters
Ham-Hams:
Humans:
Gallery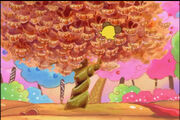 Ad blocker interference detected!
Wikia is a free-to-use site that makes money from advertising. We have a modified experience for viewers using ad blockers

Wikia is not accessible if you've made further modifications. Remove the custom ad blocker rule(s) and the page will load as expected.