Barrette
(ポニーテールちゃん,
Ponītēru-chan/Ponytail-chan
) is a Ham-Ham who appeared in
Hamtaro: Ham-Ham Heartbreak
and some of the episode in the series. She has a crush on
Seamore
.
Character
Barrette runs the photo studio in the Ham-Ham Clubhouse with her boyfriend Seamore. She never makes an appearance in the English dub but makes an appearance in Hamtaro: Ham-Ham Heartbreak. In the Japanese episodes when she first showed up she had a crush on Hamtaro and did not get a crush on Seamore in the anime until The Knitting Girl and Seamore.
Gallery
See also:
Barrette/Gallery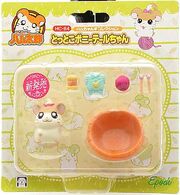 Ad blocker interference detected!
Wikia is a free-to-use site that makes money from advertising. We have a modified experience for viewers using ad blockers

Wikia is not accessible if you've made further modifications. Remove the custom ad blocker rule(s) and the page will load as expected.